History of Missouri Cancer Associates
Missouri Cancer Associates began in Columbia in 1982 as a small group practice of two physicians. Today we are the premier cancer treatment center in mid-Missouri. With two locations in Kirksville and Columbia, our medical team offers intentionally crafted and cutting edge treatments. MCA employs 130+ staff members.
We are an affiliate of The US Oncology Network, one of the nation's largest networks of integrated community-based oncology practices. The US Oncology Network is supported by McKesson Specialty Health, a division of McKesson Corporation focused on empowering a vibrant and sustainable community patient-care delivery system to advance the science, technology and quality of care.
Why Work for Us
At Missouri Cancer Associates it is our privilege to walk with our patients and their families every step of the way as they fight to beat cancer. Whether you are on the front-lines, as a direct care provider or behind the scenes providing administrative support, a career with us gives you the satisfaction of knowing that every day your work is part of a critical cause.
How we work is just as important as the work we do. Through our shared values and principles, we are a passionate group of individuals centered around caring for patients and strive to deliver outstanding innovative, comprehensive cancer care to patients and their families. Learn more about our company culture.
Benefits
We value our employees and offer a competitive benefits package that includes medical, dental, vision and life insurance; paid time off; short- and long-term disability; flexible spending accounts, 401 (k) and tuition reimbursement. Benefits are available to both full-time and part-time employees.
Equal Opportunity Employer
Missouri Cancer Associates is committed to the philosophy of equal opportunity employment and does not discriminate against any employee or applicant on the basis of race, color, ancestry, age, religion, sex, sexual orientation, gender identity or expression, national origin, disability, medical condition, marital status, veteran status, or other non-job-related criteria.
Additional information about EEOC (download PDF file) and E-Verify (download Powerpoint file).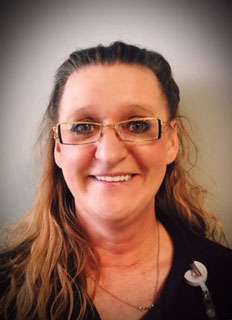 "I love working at Mo Cancer. I am asked all the time how I can work in a cancer center. I must admit that there are days I would much rather be somewhere else, but when I see people that are strong, brave and courteous….they are warriors and heroes, they are kind and fearless. They go to battle each and everyday and now matter how they are feeling they find a moment to stop and see us before they leave. I am amazed and humbled daily and that makes everyday worth it. Not everyone gets to witness the strength and courage we witness everyday."
-Robin Evans
Patient Experience Specialist
Missouri Cancer Employee since 2011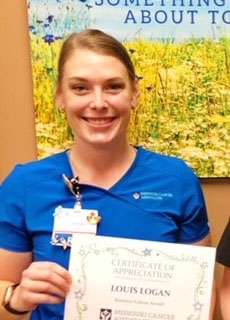 "Working for Missouri Cancer Associates has been one of the most fulfilling jobs I have had. I have been with this company for five years and enjoyed every minute. My coworkers are so awesome. If I ever had to be on the other side of the nurse's station receiving chemo, I wouldn't trust anyone but our staff to take care of me. MCA has made me become a better nurse and person, and I am so grateful for this company."
– Lindsay Teegarden
RN II
Missouri Cancer Employee since 2017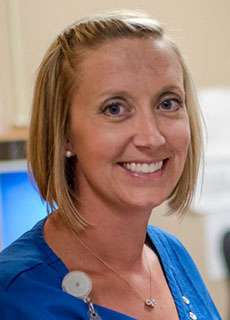 "Every day when I come to work at MCA I know I'm going to be surrounded by a family — both staff and patients. We go through the best of the best days and the worst of the worst days; we celebrate small victories with our patients; we celebrate with family members the amazing life of a lost loved one; we set goals for the future and celebrate reaching them. We take care of patients at their most vulnerable, intimate, terrifying, and tender moments. Because of this, they become our family, and we rally around and support our family. Oncology is a fascinating field with minute-to-minute research producing additional options for our patients. I learn new ways to care for our patients every day. I'm proud to be an MCA oncology nurse."
– Ashley Johnston
RN. Sr
Missouri Cancer Employee since 2016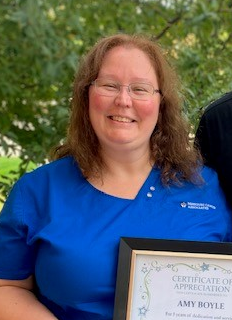 "I love working at MCA because not only do we have the privilege of taking care of the most amazing patients, we also have a great team of nurses. We are a true team that works together to create a welcoming and supportive environment and to give our patients the best care possible."
– Amy Boyle
RN. Sr
Missouri Cancer Employee since 2014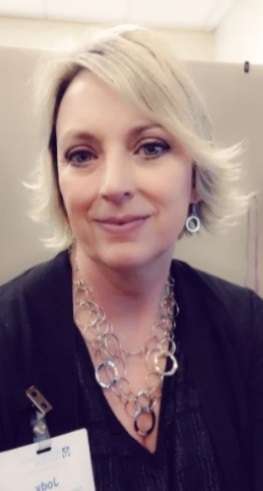 "Missouri Cancer Associates is an amazing place to work! We have the best doctors, nurses and support staff that all work together for the greater good of our patients. From our patient's first visit through their course of treatment and beyond, we are always there to hold their hand. Working on the patient accounts team is challenging, especially when dealing with insurance companies. I fight daily to make sure our patient's claims are paid, so they don't have to worry about that aspect and can focus on their health. My coworkers are the best! I consider them to be part of my family. They are always there to help you celebrate your victories and pick you up when you are down. I can't imagine my life without them. Working at MCA is the most rewarding job I have ever had, and I look forward to what is yet to come."
– Jody Lloyd
Patient Account Specialist
Missouri Cancer Employee since 2021