There's no sense of equity when it comes to cancer. Even if you've lost a family member or are suffering yourself, there's no guarantee your family will be spared from another fight. In fact, genetics tells us that, in some cases, that may increase the risk.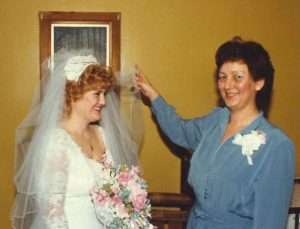 Shortly before the end of her battle with breast cancer, Sharon Sheridan chose genetic testing to determine if her cancer was the result of a genetic mutation.
"It was her last, best gift to us," says Marty Heath, Sharon's daughter.
Working with her doctors at the Missouri Cancer Associates in October 2009, Sharon gave a DNA sample (through a simple cheek swab) for the genetics testing. When the results came back positive for BRCA1 mutation, the next few weeks were a blur for the rest of the family, particularly Marty and her sister, Cindy Pudney; Marty's 19-year-old daughter, Heather; and Cindy's 17-year-old daughter, Samantha.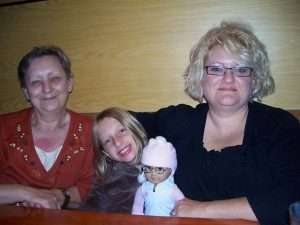 Within two months of Sharon's genetic testing, she was gone. Marty and Cindy were tested for BRCA1 prior to their mother's passing. Then Heather and Sam were tested as well.
For all four women, the tests results were positive.
The BRCA gene's job is to keep breast cells growing normally and prevent any cancer cell growth. When a mutation occurs — BRCA1 or BRCA2 — the gene does not function normally, so breast cancer risk increases.
Women in the general population have a 12 percent chance (one in eight) of getting breast cancer during their lifetime.
For women who inherit the BRCA1 gene, their risk of development breast cancer jumps to 50 to 65 percent.
BRCA1 also puts these women at increased risk for ovarian cancer – 39 percent of women who inherit the BRCA1 gene will develop ovarian cancer compared to 1.3 percent of women in the general population.
Dr. Mark Vellek of Missouri Cancer Associates says their office performs two to three genetic tests a month. When someone asks about genetic testing, Vellek says they consider the patient in depth to see if the testing is warranted and worth it.
Most cases of breast cancer, he says, don't prompt genetic testing. Age is a big red flag. According to Vellek, the peak age at which most women get breast cancer is 89, so seeing breast cancer in a woman under age 50 catches attention. In some cases, other factors may prompt a recommendation for testing.
At Missouri Cancer Associates, every course of action is individualized, based on science but with the specific patient in mind and takes studies and statistics to formulate an approach to treatment.
"No test is perfect," Vellek says. "Genetics gives us probability. We can give statistics, but what happens happens, and we deal with the consequences. You need to know — and your OB/GYN needs to know — the results if you are in a high-risk category."
A positive test result can't tell whether or when someone will actually develop cancer. For example, some women who inherit a harmful BRCA1 or BRCA2 mutation may never develop breast or ovarian cancer.
"The big question is, 'What are you going to do with the results?'" he says about talking with patients about genetic testing.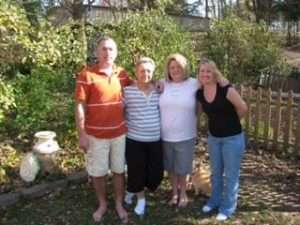 For Marty and Cindy, there was no hesitation once they knew they tested positive for BRCA1. Receiving their results in November, Marty underwent surgery for a bilateral mastectomy before Christmas, and Cindy followed in January. Marty then had a hysterectomy in July. Cindy had already had a hysterectomy in 1998 when her son, Andrew, was born, due to complications.
"It was easy to make the decision after seeing what our mom went through and considering our age," Marty says about her and Cindy's decisions to have surgery. "The girls were different."
Making the decision to have a mastectomy or a hysterectomy is more complicated for a young woman. At 19 and 17, Heather and Sam hadn't yet started their own families.
Heather went ahead with the bilateral mastectomy two months after her mother's surgery.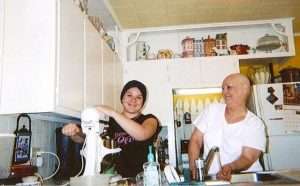 "Cancer doesn't pick a number," Heather says. "It can happen to you at any age. [The surgery] was scary and didn't seem real at first, but from the beginning, I knew we were going to stay positive. And I knew Grandma would tell me to do it."
Heather says having her mom and aunt going through the same procedures and process helped make the decision easier.
"I knew the support was there," she says about how they relied on one another.
Although she knew the decision was the right one, Heather admits it wasn't always easy. "I was depressed at times," she says. "Then I would feel guilty about feeling bad because I knew the surgery was the right thing to do."
All three women say that others often didn't understand what they were going through. Heather says other women asked her why she would choose surgery and whether she did it for the implants. She faced guilt in the hospital when her son was born two months early and she couldn't breastfeed.
"Almost six years later, I can finally say that what others say doesn't bother me," she says with a maturity that many 25-year-olds don't have. "I would tell someone else at 19, 'Do it.'"
Sam had a different life view from her cousin, and at 17, she wasn't ready for surgery.
"I was a senior in high school, working two jobs — I put it off," she says. "You don't think you are going to get cancer in your 20s. I wasn't as worried. I looked at it like everyone has a chance of getting cancer. I just had a higher likelihood."
Sam chose preventive measures such as vitamins and diet changes, plus regular self-breast exams and mammograms, in lieu of surgery. A few years later, when her daughter, Kennedy, was born, she knew she wanted to breastfeed before having surgery and again delayed a bilateral mastectomy.
Two weeks before her 24th birthday, on a Sunday, Sam found a lump in one of her breasts. The next day, Missouri Cancer Associates brought her in for a mammogram. By Thursday, she had her diagnosis — breast cancer.
"Feb. 4, 2016," Sam says ­of the day she got the news. "Finding out happened really fast. They [Missouri Cancer Associates] don't mess around."
Her daughter, Kennedy, was 1 ½.
With her mom; aunt; cousin; fiancé, Josh; and other family members supporting her, Sam chose to postpone chemo until after she had a bilateral mastectomy in March. Since then, she's had three chemo treatments and has three more to go.
"My mom has been my biggest supporter, especially with Kennedy," Sam says.
Answering questions about Sam's battle is hard for Cindy. Tears come to her eyes.
"It's stressful," she says. "You obviously don't want this for your child. It's hard to see them have to go through so much at such a young age — or ever. She's still so young.
"I try not to think about it," Cindy adds. "We make it through every day."
While talking about their family's history, the close-knit nature and strength of these women ­— Marty and her 25-year-old daughter, Heather Patton, and Cindy and her 24-year-old daughter, Samantha Richardson — is clear.
"We pretty much handle things ourselves," Marty says, referring to how the women draw strength from one another.
"What we got from our mom is to do what you have to do to get through every day," Cindy says.
Sharon was first diagnosed with breast cancer in 2004, at age 56. It was the second time the family had been hit by the disease. In 1996, her husband, James Sheridan, the father of their three children — Marty, Cindy and brother Andy — lost his battle with lung cancer.
Her daughters say their mother, an independent and hardworking woman, didn't immediately tell them about her diagnosis in 2004. She waited several months, until scheduling a lumpectomy to remove her tumor, to share the news. Throughout treatment, her daughters say she didn't let the cancer stop her.
"She would go to chemo and then go to work," Marty says. "You could always count on her to go over and beyond what she needed to do."
For Sharon, her cancer came back again and again, and she fought it with chemotherapy, surgery and radiation. "When she was done, she was done," Marty says about her mother's decision to stop treatment.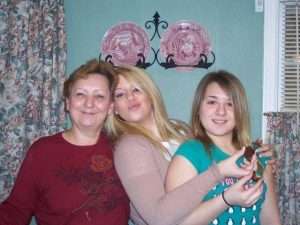 Sharon passed away on Nov. 21, 2009.
For everything their family has been through, Marty describes cancer like a roller coaster ride. "You stand and wait for it, but once you're in the seat, there's no turning back," she says. "We didn't choose this gene, but it's our fight to fight. We choose to do it together."
The family says they're appreciative of Missouri Cancer Associates' care and guidance through their journey.
"They all care," Marty says about the MCA staff. "They are all willing to answer every question or find someone who can if they can't."
Marty, who works in HR at MCA, has seen how the staff treats patients and knows the level of care they provide for everyone who walks through the door.
"They see the patient as a person, and they talk directly to them," she says. "They are never too busy to be respectful of what people are going through."
"They are here to help you through it," Cindy adds.
"We all know we have this cross to bear," Heather says about carrying the BRCA1 gene. "We stick together. Grandma taught us to be the strong women we are."
"The world doesn't stop because you have a problem," Marty says. "If you dwell on it, it makes it harder."
Cindy reflects on something her own grandmother, Sharon's mother, used to tell them — that God doesn't give you more than you can handle.
"He must think we can handle a lot," she says.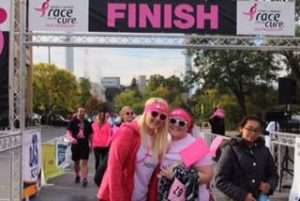 Cindy's husband, Les, passed away from cancer in 2014. Sam is scheduled to have her last chemo treatment on July 6. Two weeks after that, she will have a scan to see how effective the treatment was.
"It's hard to tell people I have cancer," Sam says. "I don't want them to feel bad for me."
"No pity," Marty chimes in. "We get that from Mom."
More about Genetic Testing and BRCA1
According to Dr. Vellek, most insurance companies will pay for the testing (between $3,400 and $4,400), once your deductible has been met. Missouri Cancer Associates helps patients every step of the way through the process, including answering questions about billing and insurance.
Insurance companies cannot discriminate based on the results of the genetics test, but they can ask if you have had the test done and deny coverage at that point, without knowing the results, according to Vellek, so it's best to get covered before having the test. He also notes that employers can't ask for your results either.
BRCA gene abnormalities aren't limited to women. Men with a family history of BRCA1 or BRCA2 should also be tested to determine their risk for breast cancer, prostate cancer and others.
Hormone therapy is an option to lessen the risk for those who test positive for BRCA1 and cuts the risk in half. Surgery, in comparison, cuts the risk by 92 to 94 percent.
Find out all of your options before you make a decision about testing, including what to do if you have been tested and have a positive result.