MCA Patient: Katie Hanney
Survivor Since: 2016
Diagnosis: Breast Cancer
Medical Oncologist: Andrew Iliff, M.D.
Treatment: Chemotherapy, lumpectomy, radiation and antibody infusions
Even after two breast cancer diagnoses, Katie Hanney focuses on the positive.
After six rounds of chemo, a lumpectomy, 30 rounds of radiation and a year of antibody infusions, Katie Hanney's breast cancer was in remission.
Until it wasn't.
"The world fell out from under me," she says. She was devastated, feeling the way she had only felt three years before — the first time she was diagnosed. This time, however, she knew it was stage 4 and that it was no longer curable but treatable.
Treatment followed a similar trajectory as the first time: six rounds of chemo, the first of which was tougher than the rest. Katie also saw a counselor, which helped her address not just her physical needs but also her emotional health. She currently receives antibody infusions every three weeks and bone scans and CT scans every three months to monitor and treat where possible.
The first diagnosis
Katie was first diagnosed with breast cancer in August 2015. She was 33.
"It was very surreal," she says. "It took several days for me to process the information, and when I did, I immediately felt determined to fight hard — if not for myself but for my kids."
She began chemotherapy three weeks later. Aside from her first treatment, Katie says it was "very manageable," permitting her to continue working full-time as a kindergarten and first grade teacher at Columbia Public Schools. After each subsequent treatment, she felt tired for a couple days but would bounce back quickly.
Once she finished chemo, Katie was eager to have surgery and finish radiation. By September 2016, after her last antibody infusion, she felt her treatment journey had truly ended. "It was a fantastic feeling, and I was happy to put the whole experience behind me," Katie says.
Looking for a change
Katie knew she needed to change her eating habits, and her second cancer diagnosis propelled her to seek a lifestyle change — not just a diet. "I knew from experience that diets are just Band-Aids, and I wanted something longer-lasting," she says.
A good friend referred Katie to Karri Ball, a licensed functional nutritional therapy practitioner with Health = Wealth Nutritional Therapy. After a disappointing consultation with another dietitian, Katie reached out to Karri, and they agreed that Katie would take a class after she finished chemo. She signed up for Karri's RESTART nutrition class, which changed her outlook on food. "I shifted my priorities," she says. "I read labels. I'm conscious about what I'm eating. I will no longer eat with guilt. I will enjoy what I'm eating, then move on."
Karri says she was honored to support Katie on her wellness journey. "Katie is a great example of being a busy mom of three kids, wife and cancer survivor," Karri says. "She now has the tools for a lifetime of healthy eating and has a group of supporters with a common goal: to be aware of what we're putting into our bodies and how we can help ourselves be healthier than before."
Never alone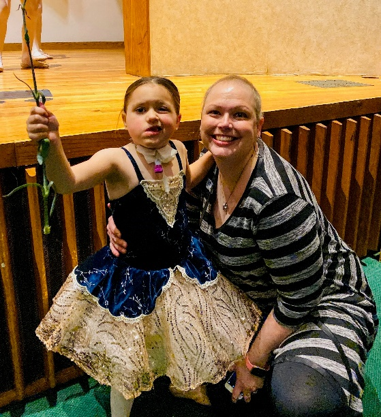 Katie says her family, friends, co-workers and care team at Missouri Cancer Associates have provided an amazing support system and continue to help her through her diagnoses. At each of her chemo and antibody appointments, for example, there would be a flower waiting for her. When she completed all 12 infusions, there would be a bouquet comprising the flowers she had received, which she discovered was sent by her co-workers. In addition, people provided meals and care constantly — Katie says she never felt alone.
She recalls that when she had her first appointment at MCA, she had trouble getting out of the car due to her nerves. A friend who is a fellow breast cancer survivor told her something Katie says she'll never forget: "You are about to meet the people who are going to save your life." Katie says that since then, everyone at MCA has been supportive and that she's grateful for each person there.
'I refuse to feel like a victim.'
To anyone living with cancer — whether the person diagnosed or family members — Katie recommends continually searching for the silver lining, no matter how hidden it might seem. "It takes a lot more energy to be mad and angry," she adds, "and we don't have much energy to spare."
Another coping mechanism Katie suggests is setting an amount of time to be immersed in emotions. Once the time is up, move on. Yet another is allowing people to help, even if it's hard to know what to do or say.
Above all, Katie stresses that the diagnosis does not define her nor anyone else who has it. "It's a part of you but not all of you," she says. "I refuse to feel like a victim and keep my focus on the now."