SpaceOAR® Hydrogel
for prostate cancer radiation treatment
Missouri Cancer Associates and Urology Associates of Central Missouri are working together to provide comprehensive, compassionate cancer care, offering state-of-the-art treatment for prostate cancer. Patients who require radiation treatment for prostate cancer can now receive the SpaceOar® System (OAR stands for "organ at risk"). The SpaceOar® System is a temporary injectable gel that protects the rectum in men undergoing prostate cancer radiation treatment with external radiation (IMRT) or internal treatment such as radioactive seeds. SpaceOar Hydrogel consists of polyethylene glycol, a widely used substance in cosmetics and drugs that is nontoxic and well tolerated by the body. SpaceOar Hydrogel is injected as a liquid that, within seconds, solidifies into a soft, gel-like synthetic material that expands and creates space between the prostate and rectum. Because it contains mostly water, it is called a "hydrogel."
SpaceOar Hydrogel received approval from the U.S. Food and Drug Administration after the results of a phase III trial that demonstrated a 75% reduction in the radiation dose to the rectum, which translates into a significant decrease in side effects. The reduction in radiation dose resulted in zero patients having grade 2 or greater rectal toxicity three years after treatment.  
A urologist applies the SpaceOar System in an outpatient setting prior to external radiation treatment through a minimally invasive procedure. The patient receives the SpaceOar Hydrogel injection through a small needle into the space between the prostate and rectum while under local or general anesthesia. During the same procedure, small gold markers (called fiducials) are placed in the prostate to localize it prior to each radiation treatment or immediately following placement of the radioactive seeds used in brachytherapy for prostate cancer.
Ultrasound imaging allows the urologist to see and place the hydrogel in the proper location. On average, SpaceOar Hydrogel creates a half inch (or 1.3 cm) of space between the prostate and rectum, permitting radiation treatment to the prostate with much less rectum radiation injury and fewer complications. The gel remains in place for about three months during radiation treatment; it then liquefies and is absorbed and cleared from the body in the patient's urine.
Missouri Cancer Associates is proud to hold the Radiation Oncology Practice Accreditation from the American College of Radiology for Radiation Oncology Services. To learn more about radiation treatments available, click here.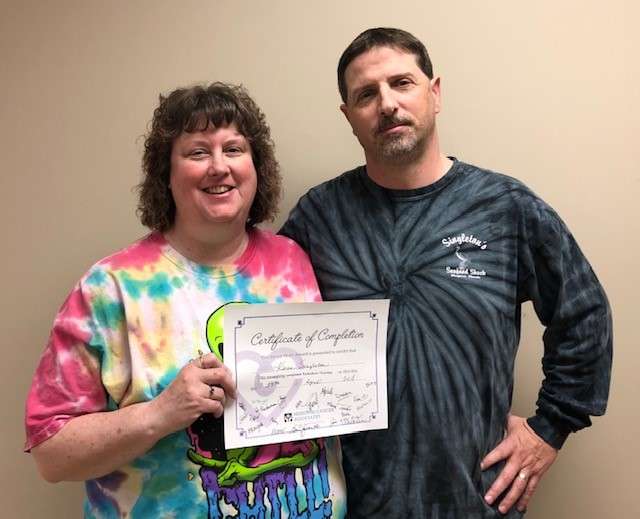 Karen Singleton decided to schedule a routine mammogram. As it turned out, that simple, preventive measure in March 2018 ended up saving her life. Because of her early diagnosis and the location of her tumor, Karen's treatment plan included a lumpectomy , followed by internal radiation — also called brachytherapy or seed implantation. Read Karen's survivor story.