Can acupuncture help? This is one of the top questions I'm asked either by the patient themselves, a family member, loved one or friend.
Acupuncture is one of the modalities of Traditional Chinese Medicine and has more than a 3,000-year-old rich history of continued evolution and success. A number of cancer centers in the United States such as MD Anderson, Memorial Sloan-Kettering and Dana-Farber Cancer Institute offer acupuncture as a therapy for those going through cancer treatments.
Acupuncture needles are extremely thin, about the thickness of a cat's whisker. The needles are sterile, individually packaged and disposable. Many patients report the experience a deep state of relaxation during a treatment and the feeling of rejuvenation after a treatment.
Five Ways Acupuncture Can Help
1. Reduction of nausea and vomiting associated with chemotherapy
One of the most research to date has been done to evaluate the effect of acupuncture on chemotherapy induced nausea. According to the National Cancer Institute, there is clear evidence that needle acupuncture is efficacious for postoperative and chemotherapy induced nausea and vomiting.
2. Relief from pain and neuropathy
Studies looking at pain control using acupuncture suggest that it may be helpful in the reduction of pain associated with cancer. It has also shown to improve circulation in the body leading to the regeneration of damaged nerves and improved healing of scar tissue.
"It is difficult to describe what it means to a person with terminal cancer to have the body rid of the many side effects of the chemotherapy designed to treat it. This is especially true of the feet, a constant daily reminder of the ordeal caused by the cancer shrinking and cell-killing chemicals. At any rate, thank you for your treatments, I am glad that I made that first appointment." 
3. Improved digestion
Radiation treatments can cause pain and swelling in the mouth and throat making it difficult to swallow. Some patients lose their sense of taste as well. Acupuncture has shown to be effective in decreasing these side effects and improving digestion. Several pilot clinical studies suggest that acupuncture may also improve xerostomia or dry mouth caused by radiation therapy in patients with head and neck cancers.
4. Reduction in cancer-related fatigue
A 2018 review of studies in which acupuncture was compared with sham (placebo) acupuncture found that acupuncture had a "marked effect" on cancer-related fatigue. This is encouraging information for those suffering from fatigue related to cancer or the side effects of cancer treatments.
5. Improved well being and help with stress management
Cancer patients who use acupuncture claim that they feel calmer and happier.  Additionally, many report less stress, anxiety, being more mentally alert and feeling more emotionally stable. There are specific acupuncture points that can help improve sleep and calm the nervous system down.
"I would like to say thank you for helping ease the anxiety and side effects of the cancer treatments that I have had in 2011. I'm sure acupuncture has also been a major factor in my energy level being high and the "cancer anxiety" being minimal."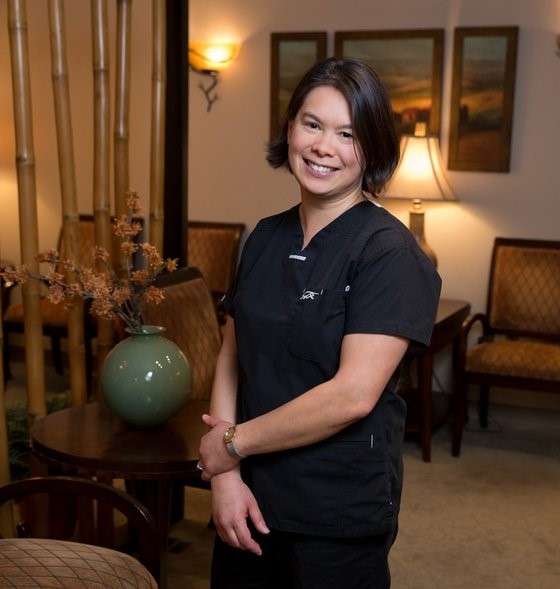 About the author:
Gina Butler, Lac, Dipl CH, Licensed Acupuncturist, Board Certified Chinese Herbalist
Gina Butler received her Masters of Acupuncture and Oriental Medicine degree at the Seattle Institute of Oriental Medicine in Seattle, Washington in 2004. She is nationally board certified in both acupuncture and Chinese herbal medicine by the National Certification Commission for Acupuncture and Oriental Medicine (NCCAOM) and is licensed by the State of Missouri to practice acupuncture.
Acupuncture of Columbia
Broadway Medical Plaza 4
1705 E. Broadway, Suite 300
Columbia, MO 65201
(573) 449-9355
Article Sources 
Zhang, Y., Lin, L., Li, H., Hu, Y., and L. Tian. Effects of Acupuncture on Cancer-Related Fatigue: A Meta-Analysis. Supportive Care in Cancer. 2018. 26(2):415-425.
Lu W, Dean-Clower E, Doherty-Gilman A, Rosenthal DS. The value of acupuncture in cancer care. Hematol Oncol Clin North Am. 2008;22(4):631-48, viii.