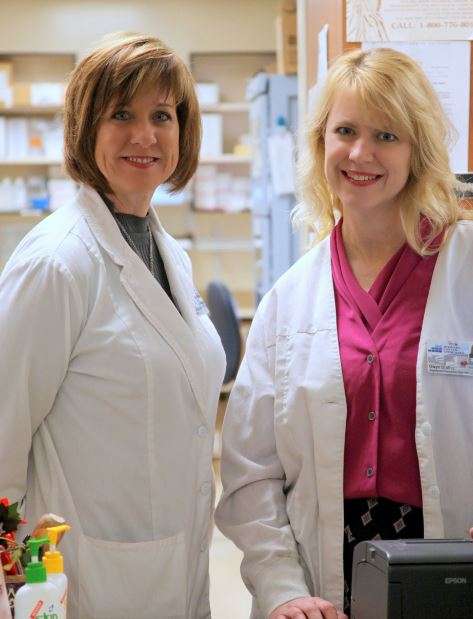 Personal and knowledgeable pharmacists
We have an excellent understanding of the medications you need to fight cancer. We also carry many other commonly prescribed medications. Delivering individualized, comprehensive pharmacy services is important to us.
Oncology pharmacists serve an important role on the patient's care team because much of cancer treatment is achieved with infused and oral medications. Supportive care drugs are also used to prevent and manage side effects to maintain patient comfort during the course of treatment.
Pharmacists have a Bachelor of Science (RPh) or Doctor of Pharmacy (PharmD) degree. At Missouri Cancer Associates, our pharmacists provide recommendations and guidelines to clinicians for optimal disease and side-effect management, clinical guidelines for chemotherapy drugs, drug education to physicians, nurses and patients, and supervise pharmacy technicians in assisting the pharmacist in delivering exceptional pharmaceutical care.
Pharmacy admixture technicians prepare the chemotherapy and other infusion medications to be administered in our outpatient clinic infusion rooms. Admixture is performed in biological safety cabinets housed in a specialized clean room in the pharmacy to ensure a sterile and safe environment for IV drug preparation for patients and staff. Pharmacy retail technicians assist pharmacists with preparing prescription medications for patients, managing drug inventory, providing customer service, and performing administrative duties in the pharmacy setting. Several of our pharmacy technicians have achieved Certified Pharmacy Technician (CPhT) status and maintain their skills with continuing education.
Collaborative effort
Our pharmacists work closely with your MCA oncologist to provide you the prescriptions you need – it's a unique doctor-pharmacist relationship.
Missouri Cancer Care Pharmacy (MCCP) maintains a fully-licensed retail pharmacy for the use by patients and staff. Our pharmacy stocks all of the most widely used oral cancer treatment medications, some of which are not carried by many pharmacies, as well as, an assortment of other supportive medications and over-the-counter (OTC) items. The pharmacists have in-depth knowledge of these medications, pain management, and drug interactions, and are available to review medications with each patient.
Patients at Missouri Cancer Associates, Urology Associates of Central Missouri, George Rae Cancer Center, or patients seeing any of the doctors practicing at these locations can fill their prescriptions through Missouri Cancer Care Pharmacy (MCCP).
Medications can be mailed to your home or picked up at the pharmacy. Specialty drugs are shipped via FedEx to track shipments.
Insurance savvy
We work with your insurance company and help with copay assistance so that you can focus on what matters most – your treatment. We contract with most commercial and Medicare Part D plans. We'll be your advocate. If needed, we'll find foundations/grants to alleviate out-of-pocket costs.
Payment methods
MCCP accepts cash, check, American Express, Master Card, Visa and Discover.
To contact us
Call 573-817-8527
Monday through Friday
7:30 a.m. – 4:00 p.m.
Our pharmacy is located in the main hallway of Missouri Cancer Associates
1705 E Broadway, Ste 100 Columbia, MO 65201