Radiation Therapy Information
Before Your First Visit
When you are diagnosed with cancer, there are certain questions you should ask your doctor so you'll better understand your illness and what to expect during treatment. Review the following questions with your doctor at your first appointment.
About Radiation Therapy
Radiation oncology is the medical specialty focused on the use of radiation therapy (also known as "radiotherapy") to treat cancer. A physician who specializes in this area of medicine is known as a radiation oncologist. All radiation oncologists at MCA are certified by the American Board of Radiology and possess a wealth of training and experience, with expert knowledge of innovative treatment methods. They meet regularly to discuss individual patient cases and review treatment options to ensure that each patient is given the best possible chance of a successful outcome.
Missouri Cancer Associates uses a team approach for the consult, simulation, treatment planning, treatment delivery, quality assurance and follow-up care that you will receive. Members of the team include: radiation oncologists, medical oncologists, nurses, radiation therapists, PET techs, CT techs, dosimetrists and physicists. Often your medical oncologist, surgeon, urologist, dentist, dietitian, social worker and others will collaborate in your overall treatment approach. Once a course of treatment has been decided upon, the MCA radiation therapy team uses state-of-the-art technology to design and deliver an optimal treatment plan tailored to your specific condition.
Treatment Planning
CT Simulation is the first step in the radiation oncology treatment process. This involves a consultation with your physician and then a CT simulation, so a treatment plan can be created for you. Planning includes determining the correct body position for treatment, having a CT scan, making reference marks on the skin and a virtual simulation prior to your first treatment.
Body Positioning: Your treatment team will determine the best position for your body to receive radiation treatment. Immobilization devices may be used to ensure you are in the exact position during each subsequent treatment.
Imaging: Once the team ascertains the correct position, images will be taken to determine where treatment is needed. This may also include traditional X-rays or PET (positron emission tomography) and/or CT (computed tomography) scans.
Marking: To ensure that all treatments are delivered to the right place on your body, the skin may be temporarily or permanently marked.
Virtual Simulation: During virtual simulation, the images taken during the CT scan are used to create a 3D computer model of your anatomy, including the tumor and its location, which augments an oncologist's ability to plan the optimal course of treatment.
Your MCA radiation therapy team uses state-of-the-art technology to design and deliver an optimal treatment plan tailored to your specific condition. You can be confident that our nationally recognized radiation oncology department will provide you with the highest standards of care.
Types of Radiation Therapy
Image-Guided Radiation Therapy (IGRT)
Image-Guided Radiation Therapy (IGRT) provides image-guidance and verification capabilities prior to treatment, allowing for more accurate delivery. Imaging is taken daily prior to your treatment. Computer software allows the radiation therapist and radiation oncologist to compare the images taken at the time of treatment to the images acquired during the CT simulation. IGRT is able to account for changes in the patient's position or internal structures that may require a shift to the exact field placement. This allows for increased accuracy of this very complex treatment approach. It also provides documentation of the degree of accuracy. IGRT is used in conjunction with external beam radiation, three-dimensional conformal radiation therapy (3D-CRT), or intensity modulated radiation therapy (IMRT).
External Beam Radiation Therapy
External radiation therapy focuses a high-energy photon or electron beam to the area of interest where the tumor is located within your body.
Intensity Modulated Radiation Therapy (IMRT)
Intensity Modulated Radiation Therapy (IMRT) is an advanced form of external beam radiation therapy treatment enabling the oncology team of experts to precisely target tumor cells. It uses computed tomography (CT) to generate 3D images to create treatment plans to deliver targeted radiation beams of varying intensity to the area of interest. By using image-guidance technologies, your radiation oncology team can localize your treatment and minimize damage to surrounding tissue.
3D Conformal Radiation Therapy (3D-CRT)
Three-dimensional conformal radiation therapy (3D-CRT) is a treatment method in which radiation beams follow the exact shape of the cancer tumor allowing more precise targeting. This technique allows delivery of high-dose radiation while limiting exposure to nearby healthy tissue. If 3D-CRT is recommended, the dosimetrist will utilize three-dimensional images of the tumor and the surrounding structures to develop a complex and specialized treatment plan for the radiation oncologist to review and approve.
Stereotactic Body Radiotherapy (SBRT)
Stereotactic Body Radiotherapy (SBRT) is an advanced type of radiation technology. SBRT is used to treat malignant or benign small- to medium-size tumors in the body, including the lung, liver, adrenal glands and spine. SBRT is an important alternative to surgery, especially for patients who are unable to undergo surgical interventions.
SBRT works in the same way as other forms of radiation treatment, causing the tumor to shrink. By damaging the DNA of tumor cells, these cells cannot reproduce. Malignant and metastatic tumors may shrink more rapidly, even within a few weeks to months. Specific technology is required to deliver SBRT treatments. Four-dimensional imaging is used to locate the tumor within the body and define the exact size and shape. This imaging guides the treatment plan and positioning of the patient for treatment.
Internal Radiation Therapy
Internal radiation therapy (brachytherapy) is a type of radiation therapy that uses sealed containers of radioactive material placed close to or inside the tumor. Internal radiation therapy delivers a higher dose of radiation directly to the cancerous area than external radiation treatments. Internal radiation therapy may be utilized to treat breast, prostate, skin and gynecological cancers.
Low Dose Rate Brachytherapy
Low Dose Rate (LDR) internal radiation therapy involves the use of radioactive materials inserted into body tissue in close proximity to the tumor to deliver high-dose radiation in a permanent or temporary application. LDR brachytherapy is most often used to treat prostate and gynecologic cancers.
High Dose Rate Brachytherapy
High Dose Rate (HDR) internal radiation therapy utilizes radioactive material inserted into applicators within body cavities or tissues in close proximity to the tumor, allowing for a high dose of radiation to be delivered precisely to the tumor. HDR brachytherapy is a temporary implant conducted in an outpatient setting and minimizes treatment time. A CT scan is performed while the implant is inserted to verify the exact catheter or applicator placement, resulting in a radiation dose with one-millimeter accuracy that significantly spares radiation exposure to surrounding healthy tissue and critical organs.
Brachytherapy for Skin Cancer
HDR Brachytherapy Treatment for Skin Cancer
Skin HDR internal radiation therapy is a convenient, effective treatment alternative with outstanding results and minimal side effects. A radioactive seed travels through an applicator and delivers a precise radiation dose directly to the target within one-millimeter accuracy. It achieves good to excellent cosmetic results and is a good treatment option for cancers around the eye and nose that are more difficult to treat surgically. It is typically administered two to three times per week for a total of six to 10 treatments. Treatment takes less than 10 minutes and is painless.
Brachytherapy for Breast Cancer
MammoSite® delivers a high daily dose of HDR brachytherapy to the area where breast cancer is most likely to recur after a lumpectomy. The radiation can kill any remaining cancer cells. MammoSite works from inside the body via a discreet single channel balloon catheter system implanted in the breast lumpectomy cavity. The system is in place for five days with treatments given twice a day. MammoSite is much faster than other treatments that may take five to seven weeks.
Contura™ Balloon delivers a high daily dose of HDR brachytherapy via five channels for the radioactive source. These channels allow clinicians to shape the radiation and administer radiation only where it is needed, thus protecting healthy tissue. Treatment time is decreased to just five days versus up to seven weeks.
SAVI™ applicator delivers a high daily dose of HDR brachytherapy via multiple catheters that allow clinicians to contour the radiation and protect nearby healthy tissue. This approach provides greater flexibility in the delivery of radiation.
Brachytherapy for Gynecological Cancer
HDR Brachytherapy
HDR internal radiation therapy is used to treat gynecologic cancers by delivering radiation internally and precisely targeting the tumor. This precision minimizes the impact on the surrounding healthy tissue and limits side effects. The radiation is delivered through an applicator that is inserted internally and is removed once treatment is complete. Treatment time is significantly reduced to three to five treatments. This outpatient procedure often requires sedation, so you will need a driver for each of these visits.
Radiation Protection for Prostate Cancer Treatment
SpaceOAR® Hydrogel
Placed between the prostate and rectum, SpaceOAR® Hydrogel reduces rectal injury in men receiving prostate cancer radiation therapy by acting as a spacer — pushing the rectum away from the prostate, out of the high-dose radiation region.
"I was nervous at the first visit, due to the unknown. The staff was helpful and explained what to expect during my treatment. Everyone had such a positive and uplifting outlook that made me immediately feel better. My treatments were quick and precise. Very little wait time, very efficient with daily treatments. I appreciate all the care and attention I received from the entire staff"
— Rebecca S., Missouri Cancer Associates Radiation Patient
New Treatment Options Coming Soon
Missouri Cancer Associates are excited to bring the most advanced treatment options to mid-Missouri. In spring 2023, MCA's Columbia location will open a new Varian™ TrueBeam™ Linear Accelerator. The new technology gives our radiation oncologists and staff the ability to precisely tailor cancer treatments that are best for each patient's diagnosis. It allows for advanced treatment techniques, including intensity-modulated radiotherapy (IMRT), image-guided radiotherapy (IGRT), stereotactic body radiotherapy (SBRT) and stereotactic radiation surgery (SRS). TrueBeam benefits for patients include:
Faster Treatments: With more precise and more concentrated dose delivery rates than earlier generations of Varian technology, typical treatment times utilizing the TrueBeam system can be cut in half, with most taking less than a half hour. Shorter treatment times and quiet operation reduces stress for the patients.
Precision Targeting: The precision of the TrueBeam system is measured in increments of less than a millimeter, allowing protection of vital organs and surrounding healthy tissue. The TrueBeam system produces 3D images that allow our radiation oncologists to target tumors precisely. It also reduces the amount of X-ray doses a patient receives by 25%. The TrueBeam features a perfect-pitch 6 degrees of freedom couch top and VisionRT for enhanced imaging and the ability to treat SRS patients.
Personalized Care: TrueBeam makes it possible to tailor patient's treatments using respiratory gating, real-time tracking, imaging and more. With TrueBeam, we can choose the optimal approach for your patient.

Missouri Cancer Associates is honored to hold the Radiation Oncology Practice Accreditation (ROPA) from the American College of Radiology (ACR). Learn more about this accreditation.
Look for the ACR Gold Seal of accreditation. You can rest assured that the facility will meet the highest level of patient safety standards and image quality.
When you seek out facilities that display ACR accreditation seals, you know:
Our facility has voluntarily gone through a vigorous review process to ensure that we meet nationally accepted standards of care.
Our personnel are well qualified, through education and certification, to perform medical imaging, interpret your images, and administer your radiation therapy treatments.
Our equipment is appropriate for the test or treatment you will receive, and our facility meets or exceeds quality assurance and safety guidelines.
To learn more about radiation safety and procedures, visit www.radiologyinfo.org.
To learn more about our radiation oncologists:
To learn more about our medical oncologists: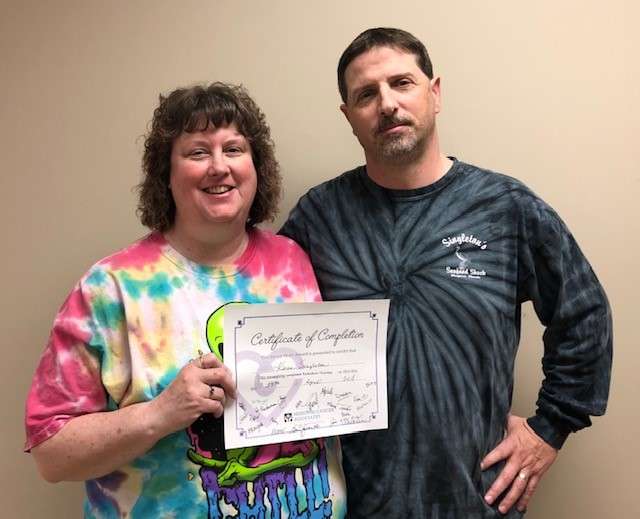 Karen Singleton decided to schedule a routine mammogram. As it turned out, that simple, preventive measure in March 2018 ended up saving her life. Because of her early diagnosis and the location of her tumor, Karen's treatment plan included a lumpectomy , followed by internal radiation — also called brachytherapy or seed implantation. Read Karen's survivor story.